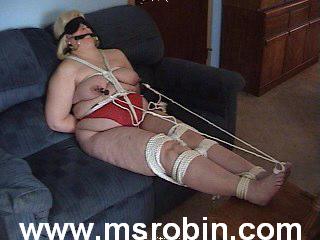 Here are some pictures of my dungeon equipment that I'm sure you will enjoy. This is my cock bondage chair. It allows me to focus my attention on your cock and it is held in place for my enjoyment with no possibility for mercy. As you can see in the next picture, I have used a sample of one of the many cocks to choose from to demonstrate how this delightful chair works.
My wish list for equipment is always changing. I must admit I am very spoiled and have a large variety of equipment.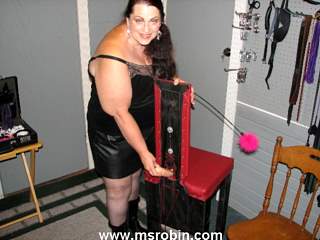 I currently am hoping to expand my leather bondage equipment. I am looking for leather mitts, arm binders, and of course I have always wanted the full leather body bag. In my members section you will find pictures of various sessions that demonstrate my many discipline skills. I am always looking for a new OTK (over the knee) paddle or strap. I find that each paddle has it's own feel for both the submissive and myself. Here is a sampling of some of my favorite OTK paddles and brushes. Nothing is as satisfying to me as to bring a naughty boy or girl to tears so they can see the error of their ways.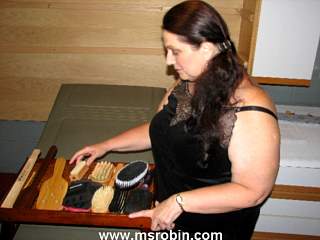 I assure you that being over my knee is an experience you certainly won't forget soon.
My latest acquisition has been an automatic spanking machine. The Robo Spanker can be found at www.robospanker.com This allows me to put my sissy maid Rachael on the bench for her nightly spanking session and set the timer. I am then off to take care of other pressing duties. Rachael knows that no amount of begging or pleading will lesson the time on the bench because I am not there to be swayed.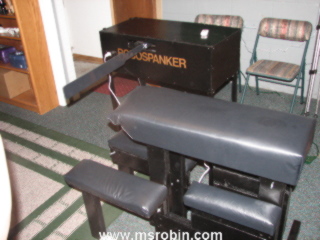 I can't recommend this spanking machine more. It has been a wonderful addition to my dungeon. I can now be with more than one sub at a time. The white cord that you see is connected to a vibrator. The vibrator not only adds pleasure for the submissive, but it also makes sure that the submissive holds the position perfectly. If they move from the perfect position, then the vibrator is much less. What an ingenious design. Here is a picture of what a 15 minute spanking does to Rachael. I am increasing the amount of time every few weeks because Rachael has developed leather butt.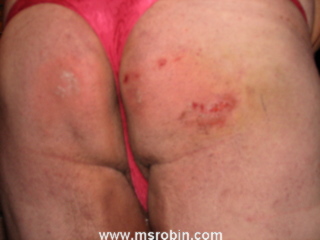 For those that don't know, leather butt is when the bottom becomes as tough as old shoe leather and doesn't mark or bruise easily. No matter how hard the spanking, Rachael never bruises for more than a day or two. But that is what happens when you have someone that has been spanked as often as Rachael has been spanked.
I am 5' 5" in my stocking feet, but I normally wear at least a 3" heel. I think my feet are one of my best features. I know that when I get to experience quality foot worship, it is the most exciting feeling in the world.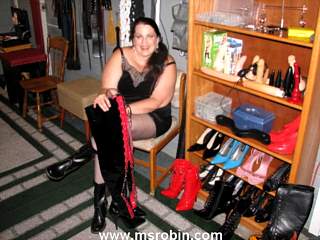 I can spend hours in a foot worship session. Each night my feet receive lotion and massage to keep them soft and beautiful. I do have the equipment to receive a complete pedicure. If you are lucky enough to be selected to bath, massage, and worship my lovely feet, you will find that my dungeon provides you with the most fantastic opportunity to fully enjoy my feet.
I love all kinds of shoes. As you can see from the amount of shoes I have collected for my cross dressing friends.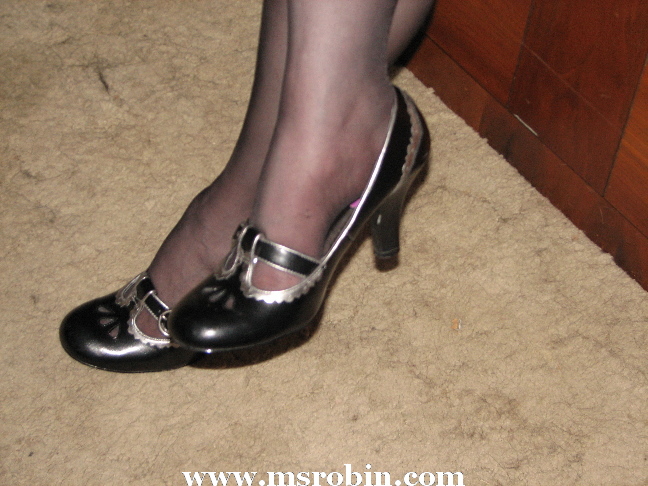 Just imagine yourself in a 6 inch thigh high set of boots. A woman is never happier than when being presented with a new pair of shoes. My pleasure is not limited to just heels. I find that even new tennis shoes make me tingle. I am currently on a quest to find a pair of tennis shoes with a heel. I would love to find a tennis shoe with at least a 3" heel, but so far no luck.
If you have a pair of shoes you dream of on my feet you can send them to me. I will add pictures of my new shoes to my web site.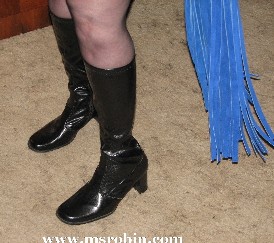 Your generosity will be rewarded with a special surprise. Be sure to include your name and e-mail address on a card so I can properly show my appreciation. I prefer heels of 3 inches so that I can comfortable work in my dungeon for the hours required of standing. However higher heels are always welcome. I may not be able to wear them for the full session, but then I am not against having a submissive worship me while I remain perched on the edge of my chair. I am sure if you send me a beautiful pair of shoes, I will certainly wear them.